Roser fra kulturministeren til brydning
Der var stor ros fra kulturminister, Carina Christensen, til VM i brydning, som netop er blevet afviklet i Herning. Roserne blev plantet på Sport Event Denmarks internationale konference, Hosting Winners.
På konferencen Hosting Winners, som Sport Event Denmark var vært for, blev der præsenteret fire meget forskellige og meget professionelle bud på henholdsvis det at byde på events og det at afvikle events.
Bla. fik deltagerne som de første at høre, hvordan Rio de Janeiro havde forberedt deres OL-bud på 2016-legene.
Kulturminister, Carina Christensen, gik på podiet – som i dagens anledning var udformet som en præmieskammel, og konkluderede på konferencen og på temaerne bud og værtskaber.
I kulturministerens tale, var der meget stor ros til Danmarks Brydeforbund for det netop afviklede VM i Herning. Da konferencens deltagere repræsenterede hele verden, faldt ordene på engelsk:
"So – honestly, I thought to myself - would Denmark really be able to pull off a remarkable World Championship?
As I walked into the big indoor stadium I got my answer:
 
• I was greeted by the roaring sound of cheers from thousands of ecstatic fans.
• As far as the eye could see colourful clothes and banners marking all the different nationalities present were lighting up the grand arena.
• The air was filled with pleasant, expectant tension – almost like electricity. So thick I could almost have grabbed it!
But to make a long story short: With a mix of hard work, know-how and creativity the Danish Wrestling Federation had arranged perhaps one of the greatest world championships ever. "
Kilde: Eline Andersen, Sport Event Denmark.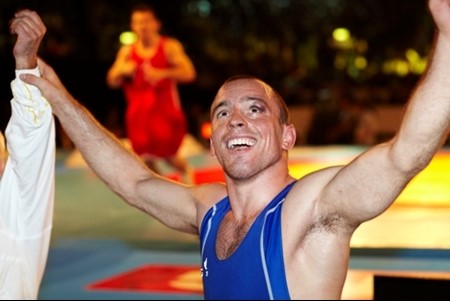 Foto: Klaus Sletting Jensen

af Jane Sunesen - 07.10.2009